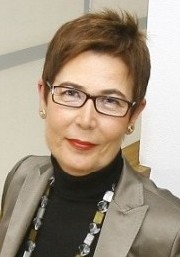 Department of English and German
Facultad de Filología
University of Santiago de Compostela
E-15782 Santiago de Compostela
SPAIN

E-mail: teresa.fanego@usc.es
Phone: +34 981 563100, ext. 11899
Office hours:
Wednesday: 12:30-14:00
Thursday: 13:00-14:00
I work as a Full Professor of English Language and Linguistics at the University of Santiago de Compostela. I studied Germanic Philology in Santiago de Compostela and specialized (1975-1976) in English Linguistics at University College London, on a British Council scholarship.
In 1978 I completed my doctorate on "Linguistic Variants in Seventeenth and Eighteenth Century Editions of Shakespeare" (Extraordinary PhD Award, Faculty of Philosophy and Letters). In 1984 I was appointed Associate Professor of English in Santiago de Compostela and since May 1990 I hold the chair in English Language and Linguistics.
Most of my published work has been on the English of Shakespeare and his contemporaries and on various aspects of English historical syntax, including sentential complement constructions and the expression of motion events. More generally, I am interested in grammaticalization processes and in functional and cognitive models of grammar. Recently, I have also become interested in the development of English legal and parliamentary discourse.
Since the 1990s I have been the director of the research unit for Variation, Linguistic Change and Grammaticalization (VLCG) at the University of Santiago de Compostela. I am also the coordinator of the research network English Linguistics Circle (ELC), established in 2006 under funding from the European Regional Development Fund, the Regional Government of Galicia, and (since 2014) the Spanish National Research Plan.
Between September 2005 and September 2013 I served as Editor-in-Chief of Folia Linguistica, the peer-reviewed journal of the Societas Linguistica Europaea (SLE) published by Mouton de Gruyter. As of 1 September 2018 I am the President Elect of SLE, to become President from 1 September 2019.
For information on English diachronic corpora compiled at the VLCG research unit, see:
http://www.usc-vlcg.es/CHELAR.htm/
http://www.alc.manchester.ac.uk/subjects/lel/research/projects/archer/